Shariah Laws Can be "Appalling" says archibiship Williams
Sharia law can be appalling, says archbishop
Riazat Butt, religious affairs correspondent
Thursday February 21 2008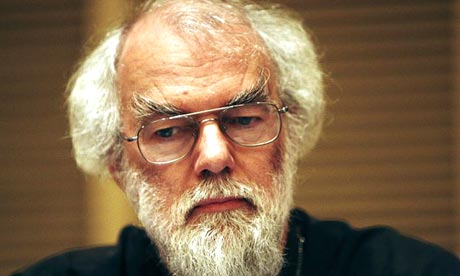 The Archbishop of Canterbury last night risked reopening the debate on sharia law by denouncing some of its practices as "grim" and "appalling".
Rowan Williams made the remarks in the first of three public lectures to be given in Cambridge. Addressing an audience of more than 1,200 people, he condemned the way Islamic law discriminated against women in some Muslim countries.
"In some of the ways it has been codified and practised across the world, it has been appalling. In some of the ways it has been applied to women in places like Saudi Arabia, it is grim."
Two weeks have passed since the archbishop caused an uproar for suggesting that some aspects of sharia law might be accommodated within the British legal system. Political, religious and secular figures were quick to attack his views, which were aired in a BBC radio interview and then in a lecture at the Royal Courts of Justice.
The ensuing furore forced him to clarify his position on several occasions, most recently in his presidential address at General Synod, the national assembly of the Church of England, where he denied making proposals for sharia law or calling for its introduction as a parallel jurisdiction to British civil law.
Yesterday, he attempted to make light of the criticism he has received. "My doomed enterprise the other day was to try and introduce that bit of perspective. Let that be a warning to you all," he joked.
Despite acknowledging the concerns raised over some aspects of sharia law, he repeated his assertion that it was "rooted in the sense of doing God's will in the ordinary things of life".
He warned against demonising Muslims and their religion, saying that to judge the faith purely on negatives would be like judging Christianity on a couple of chapters of the Old Testament. He also compared the way some Christians view Muslims to how Jews treated Samaritans in the time of Jesus.