Dubai International Capital confirmed they have been in talks with AMERICAN owners about buying a stake in the club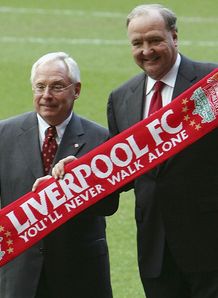 Dubai International Capital (DIC) have confirmed they have been in talks with Liverpool's American owners about buying a stake in the club.
The ownership battle at Liverpool has been the subject of intense speculation for the last few months with uncertainty regarding the futures of American duo Tom Hicks and George Gillett.
DIC, the private equity investment arm of the Dubai Government, had been reported to have renewed their bid in gaining control of Liverpool having failed in a bid prior to takeover of Hicks and Gillett.
The relationship between Gillett and Hicks is believed to have disintegrated since they gained control of Liverpool and reports suggest Hicks is considering buying out Gillett so that he can secure full control of affairs at Anfield.
Hicks denied last month that he was planning to sell his stake in the club after admitting to talking to DIC officials about possible investment.
DIC chief executive Sameer al-Ansari has admitted talks have been ongoing between all parties, but that any agreement was being stalled by the valuation of the club by one of the American owners.
Discussions
"It's no secret that we have been in discussions with the current owners," al-Ansari told reporters in Dubai"It's not easy because the owners are in dreamland about valuations at the moment."
Al-Ansari later clarified that one of the club's owners "had come out of dreamland", without giving further details.
Despite the delays in talks reports suggest DIC are ready to table a £400million bid to buy out the Americans and secure full control of Liverpool.