Roman Catholic Newspaper went to court to challange Malaysian Gov. Ban on the use of the word "ALLAH" as a translation for GOD
The Associated Press
Published: April 25, 2008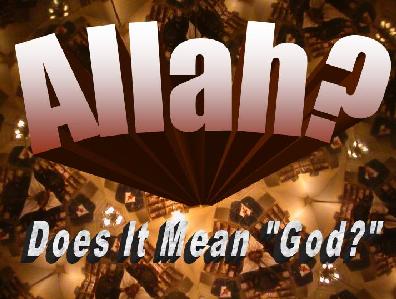 KUALA LUMPUR, Malaysia
http://www.iht. com/articles/ ap/2008/04/ 25/asia/AS- GEN-Malaysia- Allah-Ba\
n.php##
(hat tip-OSINT)
 : A Roman Catholic newspaper went to court Friday to challenge
the Malaysian government's ban on its use of the word "Allah" as a
translation for God.
Authorities in this Muslim-majority nation ordered The Herald weekly in
December to stop using "Allah" in its Malay-language section. The paper
— the main organ of the Catholic church in Malaysia — was warned
it could lose its publishing license if it defied the order.
Lawyers representing The Herald told the Kuala Lumpur High Court Friday
that they want to go to trial to reverse the government's order.
"We are saying that the decision should be squashed and there should
also be a declaration that … The Herald is entitled to use the word
'Allah' in its publication, " lawyer Porres Royan told reporters after a
brief hearing.
The government told The Herald to drop the word "Allah" because it
refers to the Muslim God. But the newspaper insists "Allah" has been
used for centuries to mean "God" in Malay.
It is basically a birth right to use the word 'Allah' because it is the
only word for God in the Malay language," The Herald's editor, Rev.
Lawrence Andrew, told The Associated Press.
The court is expected to hear further arguments next week. Dozens of
Christians packed Friday's hearing, including Malaysia's Roman Catholic
archbishop.
The Herald — which publishes reports in English, Malay, Mandarin and
Tamil — is still using the word "Allah," but some fear it could lose
its publishing license when it comes up for annual review in October.
The case illustrates growing complaints by religious minorities that
their rights have been undermined by government efforts to bolster the
status of Islam, Malaysia's official religion.
Ethnic Malays — who are legally required to be Muslim — comprise
nearly 60 percent of Malaysia's 27 million people, while ethnic Chinese
and Indians — mostly Buddhists, Christians and Hindus — are the
main minorities.
Dissatisfaction with court rulings over the right to leave Islam, along
with religious issues like the demolition of Hindu temples by state
authorities, contributed to the ruling government's poor performance in
March elections, when it lost its two-thirds majority in Parliament.
In a separate case, the Sabah Evangelical Church of Borneo has also
filed a lawsuit to be allowed to use "Allah" after officials last year
banned the import of books containing the word. Hearings in that case
remain in the preliminary stages.
http://www.iht. com/articles/ ap/2008/04/ 25/asia/AS- GEN-Malaysia- Allah-Ban\