hat tip-Margo I.http://www.timesonline.co.uk/tol/news/politics/article3872821.ece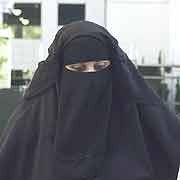 Islamic Haute Couture
May 5, 2008
BNP's Richard Barnbrook calls for flying of Union Jack and a ban on burkas
Martin Fletcher
The mainstream party candidates walked off the stage when Richard Barnbrook stepped up to speak after becoming, early on Saturday morning, the first member of the British National Party to win a seat on the London Assembly. Mr Barnbrook was unpeturbed.
He expects to be treated as a pariah for the next four years, but insists that he will not be cowed. "If I have to be a lone wolf I will be one," he told The Times.
Mr Barnbrook, 47, said that he intends to become the voice of "true Londoners", fighting against political correctness and preferential treatment for racial minorities. He will press for the Union Jack to be flown permanently over City Hall, for burkas to be banned from public buildings and for official celebrations to mark St George's Day. He will resist the planned construction of a huge new mosque, the biggest place of worship in Britain, in Newham, East London.
"I haven't been elected to simply sit back and be like the other parties, sticking with the status quo and the gravy train movement," he said.
Mr Barnbrook won 5.6 per cent of the vote, just above the 5 per cent threshold. His election represented the BNP's biggest electoral success to date and came as the party claimed to have boosted its tally of local councillors around the country from 84 to more than 100. "The quiet revolution is getting louder," the party crowed on its website.
But Mr Barnbrook's success appalled the BNP's many opponents, who fear that it will tarnish London's image as a model of racial diversity and the world's most cosmopolitan city: one third of Londoners are foreign-born.
Gerry Gable, of the anti-fascist magazine Searchlight, called it a victory for hatred, violence and stupidity. Dave Prentice, the general secretary of Unison, the public sector union, said: "We are particularly worried about the effect that the election of a BNP assembly member will have on race relations and community harmony in the city."
A spokesman for the Greater London Authority said: "However much Boris Johnson regrets the election of a BNP member and is appalled by both the policies and principles of the BNP, Richard Barnbrook was duly elected under our democratic system."
He added, pointedly: "As an elected representative, Richard Barnbrook must recognise his responsibility to represent all of his constituents."
Mr Barnbrook is a former artist who trained at the Royal Academy and is engaged to Simone Clarke, until recently a leading ballerina at English National Ballet. She supports the BNP but played no part in the campaign beyond declaring, in a campaign leaflet, that "immigration is out of control".
Mr Barnbrook's election came only a few days after Gianni Alemanno, a former neo-fascist, was elected as Mayor of Rome. "Maybe people not just in the UK but across Europe and the world are saying their [national] identities are being abused," Mr Barnbrook said.