8 Year Old Iraqi girl blown up by romote control as she murders an Iraqi captain. Child Abuse!
Girl carrying explosives blown up in Baghdad 'suicide attack'
This article was first published on
guardian.co.uk
on Wednesday May 14 2008. It was last updated at 17:51 on May 14 2008.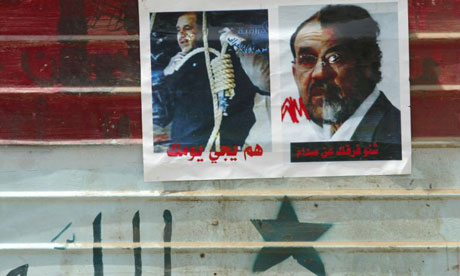 A young girl carrying explosives that killed her, an Iraqi captain and injured four soldiers was blown up by remote control, officials said today.
The incident happened as she approached an Iraqi command post in Youssifiyah, south Baghdad, earlier this morning.
Iraqi army Lieutenant Ahmed Ali confirmed that the girl, who had hidden explosives strapped to her, was the cause of the blast.
Local authorities immediately imposed a curfew in the area while US troops began searching for those responsible, he said.
"The bomber was detonated by remote control, killing Captain Wassem al-Maamouri and injuring four soldiers," Ali added.
Major John Hall from the US army said: "I can confirm that a female suicide bomber attacked an Iraqi army position."
No further details were released.
Senior US commanders have said that a recent increase in attacks has shown that al-Qaida remains a threat in western Iraq.
Military sources say that a group of al-Qaida fighters recently infiltrated the area and raided the homes of 11 Iraqi police officers before beheading them and one of their sons.
Marine Major General John Kelly, the commander of US forces in Anbar province, said it appeared the insurgents had crossed from the Syrian border.
The men had then talked their way through a checkpoint and walked through the town grabbing police individually.
"Al-Qaida is not defeated. It's an ideology," he said. "Al-Qaida is still operational but on a smaller scale."
Meanwhile in western Baghdad today, a car bomb detonated next to a convoy of vehicles carrying an official from the mostly Sunni Islamic party.
Police said Ayad al-Samarrie was not hurt in the explosion but that one civilian was killed and 20 others wounded, including four guards.
Sadr City has also seen continued skirmishes despite a recent ceasefire agreement. Hospital officials said that fighting had left five dead and 22 wounded today alone.
"The ceasefire is still active and we are still at square one," said Major General Qassim al-Mousawi, an Iraqi army spokesman.
"Nothing has been achieved so far, as security forces are still waiting for the Sadrist leaders to prepare the appropriate atmosphere to enable our security forces to enter Sadr City to do their duties."
US military spokesman, Major General Kevin Bergner, said that although American commanders around Sadr City had reported a drop in violence, some fighting did persist.
"Coalition forces would welcome the cessation of attacks by criminal groups in and around Sadr City," he said.