Citibank signs up the UAE's first private credit info services
01 June 2008
http://tinyurl.com/6z9t5y
Citibank signs up with Emcredit for credit information services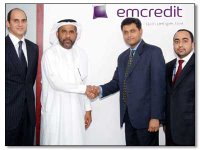 Emcredit, the UAE's first private credit information services company, announced today that it will provide
credit information and risk assessment services to Citibank
. In the initial phase of the agreement, Citibank will utilise Emcredit's emBounce services
to gain better perspective on the cheque honouring behaviour of potential customers.
Citibank is one of the largest banks operating in the Middle East and holds a substantial share of the UAE's credit portfolio. It is also among the leading issuers of credit cards in the country.
Ali Ibrahim, Vice Chairman at Emcredit, said: "We are very pleased to announce this partnership with Citibank, which demonstrates the value that Emcredit can bring to such multinational financial institutions. Our credit information and risk assessment services will enable Citibank to gain an additional perspective on the credit payment behaviour of their potential customers. This will empower them to accurately identify and target the right type of customers and make more informed lending decisions. As more and more businesses partner with us, we are confident that Emcredit's services will prove valuable for the financial industry and the economy at large."
Ibrahim added that the latest agreement with Citibank underlines the company's progress in gaining memberships from both financial and non-financial entities in the UAE. "As the market grows, increased opportunities will emerge and customer bases will grow – but, also so will the associated risks. With Emcredit's solutions, our partners will be empowered to make the right choices for their respective businesses. As such, credit information services are of great relevance to all sectors of the economy and integral to the development of the country."
Sanjoy Sen, Country Business Manager for Citibank's Consumer Banking business in the UAE, said: "In a dynamic economy such as the UAE, credit information services provided by Emcredit are useful tools for us to gain a better understanding of our customers. Not only will this help reduce lending risk, it will also enable us to provide customised and value-added services to our customers based on their payment and repayment background, which will give us the competitive advantage we need in this market."
Emcredit recently signed agreements with Amlak Finance, Better Homes and Dubai e-Government. It has also signed an exclusive agreement with Dubai Land Department's Real Estate Regulatory Authority (RERA) for development of the Property Profile Solution. This new solution will provide details on title deed information, real estate exposures and property evaluation to enhance transparency in property transactions.
Emcredit is based in the Dubai International Financial Centre and operates in line with the DIFC's Data Protection Law, ensuring the confidentiality and security of collection and usage of its credit information database