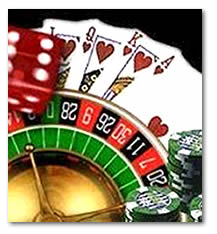 What you will not be able to play in Dubai-will alcohol or sex slaves been allowed? How does the Kingdom of Dubai deal with their penchant for Horse Raceing and the purchase of Horse farms in Kentucy and Australia? Double Standard?
http://www.lasvegassun.com/news/2008/jun/06/bringing-taste-vegas-dubai/
Bringing a taste of Vegas to Dubai
Investor will bring hotel and nightclub expertise — but no casinos
Leila Navidi
By Liz Benston
Fri, Jun 6, 2008 (2 a.m.)
Beyond the Sun
His Excellency Mohammed Ali Al Hashimi — young, wealthy and ambitious — fits comfortably on the Vegas Strip. And that's consistent with his role in Dubai's striking emergence as a world-class resort destination.
Al Hashimi heads a $5 billion private equity company in the Arab emirate of Dubai, helping transform the Islamic state with unfettered, state-sponsored capitalism.
Dubai boasts the world's largest tower, the world's largest mall and the world's most concentrated pipeline of commercial developments. To that mix, Al Hashimi is introducing Vegas-flavored night life.
Al Hashimi's company, Zabeel Investments, in February bought a half-interest in Light Group, the Las Vegas nightclub and hotel operator. Together they hope to build hotel and entertainment venues in Los Angeles, New York — and Dubai.
Most often photographed in formal Arab robes, the 35-year-old Al Hashimi moves comfortably between cultures and could pass for a Strip executive with his tailored business suit and perfect, rapid-fire English.
He was born and raised in Dubai under the emirate's British system of education, but graduated from Colorado State University with a business degree in 1995.
His early career didn't suggest a Las Vegas nexus. After college he worked for British banking giant Barclays in Dubai and London, then founded Dubai's first mortgage finance company in 2001.
After founding Zabeel in 2006, he eyed Las Vegas, where an unprecedented wave of resort construction was under way in a desert oasis with roughly the same size, population and summertime temperatures as his homeland.
In Dubai, Al Hashimi is royalty of a sort, the recipient of attention not unlike that given to casino moguls here. He received his kingly title because of his contribution to the economy of Dubai, which has grown exponentially in the past decade and where development projections tally in the trillions of dollars.
Dubai is now displaying the kind of one-upmanship that characterizes the competition among Strip resorts.
"When more properties start coming into the market … you start differentiating yourself by the service and the products you have and the restaurants you offer," he said.
That's where the Vegas connection comes in.
Seeking a proven hospitality operator in one of the most competitive hotel markets in the world became something of a necessity for Al Hashimi. He learned about Light Group from a Los Angeles hotel designer working on one of his company's Dubai projects. He fancied Light because it was young and had an appetite to grow.
In Las Vegas, Light operates the Bank nightclub at the Bellagio, Jet nightclub at the Mirage, the Bare pool lounge at Caesars Palace and Mist, a bar at Treasure Island. Light has more recently branched out into the restaurant business with nightclub-style dining outlets such as Fix at Mandalay Bay, Stack at the Mirage and Diablo's Cantina at the Monte Carlo.
Together, the two companies could create entertainment venues that would work in both cities, Al Hashimi says.
Light Group founder Andrew Sasson adds: "We shared the same vision about what was missing in the market in Las Vegas and in Dubai."
Neither will reveal what the deal is worth.
Their first joint venture, an America-themed resort in Dubai, is in some respects a nod to Las Vegas. The hotel will be designed by a firm that has signed actor Brad Pitt as a consultant. It is part of a Las Vegas-style strip, now under construction in Dubai, that is planned to open over the next several years with more than 50 hotels and 60,000 rooms.
Sasson's contribution: the food-and-beverage component of Al Hashimi's resort. He said nothing about Dubai has constricted his business plan.
Gambling isn't part of it. Although gambling isn't expressly prohibited in Islamic Dubai, to offer gambling would offend a culture that neither respects nor appreciates gambling as a pastime.
Says Sasson: "The stuff that most people in the general population of America think is morally (problematic) happens anyway but is hidden." In Arab culture, "it just doesn't happen. They say, 'We don't like it, so don't do it.' "
That's why Al Hashimi echoes the new resort executives in Las Vegas, who come from the hotel or finance industry and mention gambling as an afterthought.
And given how seriously Dubai takes its tourism economy, it won't shy away from partnering with a company knee-deep in the casino industry, in a gambling town in a gambling country.
An American business influence should play fine in Dubai, which is populated mostly by foreigners, including Europeans and Asians, and which is adept at creating attractions that cut across cultures.
And Dubai, like Las Vegas, is driven to develop bigger-than-life tourism venues. It boasts the world's only seven-star hotel and an indoor ski resort.
Al Hashimi credits Las Vegas for being first in overachievement by virtue of offering the world's finest concentration of fine dining, entertainment and hotels.
"I was amazed that I was able to stay in a five-star hotel and be in one of 4,000 rooms and still get my room service in 30 minutes and get my bags delivered to my room," he said of his first visit to Las Vegas, last year. "We don't have hotels of that size — not yet, anyway."
They're under way, including Atlantis resort and theme park, with more than 1,500 rooms, and the 6,500-room Asia Asia hotel, which aims to be the world's largest.
Some developers in Las Vegas might even see Dubai, run by the entrepreneurial Sheikh Mohammed bin Rashid Al Maktoum, as an improvement on bureaucracy.
"He keeps pushing us every day to go faster and faster. We think we're going fast but we're not going fast enough to keep up with his vision," Al Hashimi said.
Zabeel Investments, with most of its holdings in Dubai, recently purchased an interest in Sony and the parent company of Airbus and is poised to invest billions of dollars in real estate and other industries in coming years. But it doesn't aim to be big.
"We are focused at the very high end. It's about being the best and linking up with the best," Al Hashimi said.