Sovereign Wealth Funds' embarrassment of riches
March 26, 2008 | Jules Evans | More on Global economy, Middle East | http://www.globaldashboard.org/global-economy/swfs-embarrassment-of-riches/
Record commodities prices have given countries like China, Singapore, Russia, Kuwait, Abu Dhabi and UAE control over trillions of dollars, which they have stowed away in sovereign wealth funds (SWFs), that are now hovering over the global financial system like mighty hoovers, sucking up whatever assets cross their path.
The SWFs have, in the last 12 months, been on an almighty spending spree. Gulf SWFs, for example, spent an extraordinary $83 billion on 173 deals in 2007. That means SWFs are now, in the opinion of some experts, the main driver of merger & acquisition activity in the world.
Stephen Barrett, international chairman of corporate finance at KPMG, says: "With the right people in place – and experience of some major deals under their belts – the SWFs could rapidly assume the mantle of deal-making kingpins, relegating the private equity houses and corporates to second and third place."
Perhaps with a view to getting 'the right people in place', many Asian and Gulf SWFs have been forging close links with leading Wall Street banks, both by getting their advice on major acquisitions, and by actually buying stakes in those banks.
Thus in the last 12 months, the Kuwait Investment Authority has invested $3 billion in Citigroup and $2 billion in Merrill Lynch; the Abu Dhabi Investment Authority has invested over $7 billion into Citigroup; the Mubadala Development Company from the UAE invested $1.3 billion into the Carlyle Group and another $1.2 billion into the hedge fund Och-Ziff Capital Management Group; the DIFC from UAE invested over $4 billion building up stakes in OMX and the LSE; while the Qatar Investment Authority has also spent billions of dollars building up stakes in Credit Suisse and, it is rumoured, Royal Bank of Scotland – and says it intends to spend a total of $15 billion on western financial stocks.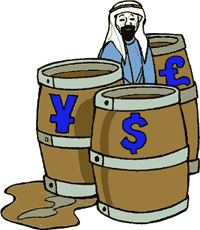 In other words, Gulf SWFs have taken a massive bet on the continued health of the western financial system. Whether these are good bets remains to be seen – so far, for example, Citigroup's stock price is down 21% since Abu Dhabi invested $7.5 billion in November. The China Investment Corporation's $5 billion investment in Morgan Stanley is down by a similar amount.
But the challenge for the SWFs is where to put all their money. They have, literally, an embarrassment of riches. And this could prove to be a historical low for western bank share prices, and a great buying opportunity for SWFs.
On the other hand, some analysts are wondering if SWFs could, themselves, replace Wall Street banks as the biggest deal-makers, the biggest global lenders, and the biggest hirers of financial talent. Banks like Merrill Lynch, Credit Suisse and Citigroup are already scrambling to set up big offices in the main Gulf and Asian countries, so as to offer their financial advice to the SWFs and other big emerging market investors.
So, rather than paying banks millions of dollars in advisory fees, why don't the SWFs just hire the cream of Wall Street's deal-makers and get them to work for them? Wouldn't that be cheaper? But if they did poach bankers from Wall Street, wouldn't that undermine their investment in the banks and funds where these deal-makers used to work?
Such are the confusing dilemmas presently facing SWFs. As one banker I spoke to said yesterday: 'They don't have a plan as such. They are making it up as they go along.' SWFs have abruptly and unexpectedly found themselves at the driving wheel of the global financial system. Freaked out by this, they have handed the wheel to…Wall Street bankers, who are exactly the people who crashed the car last time!