Chicago Real Estate Firms involved in Saudi Arabia-Capri Cap Partners LLC and Prime Group
Capri, Prime Group Inc. teaming on Saudi project
By Eddie Baeb
June 12, 2008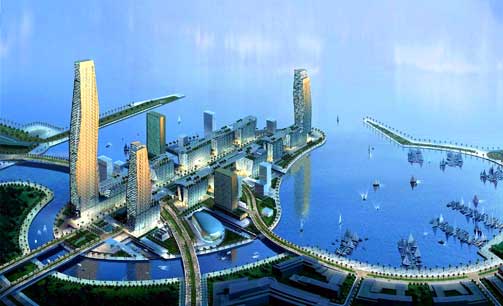 (Crain's) — Capri Capital Partners LLC and Prime Group Inc. are the latest Chicago real estate firms to land a big assignment in the Middle East.Capri announced Thursday that the firms will lead a $2-billion project that's to be part of the downtown in the new King Abdullah Economic City in Saudi Arabia. The Capri-Prime development will include two luxury hotels, a convention center, two office towers, two condominium towers and a shopping center.
Capri will own the development while Prime will act as the lead developer, according to a press release from Capri. Spanish architect Ricardo Bofill of Taller de Arquitectura will design the project, which will be part of the $26.6-billion city that's to include one of the world's largest ports and is to ultimately be home to more than 2 million people.
"It's exciting to be a part of this history as Saudi Arabia begins opening itself up to the world," Capri CEO Quentin Primo III says in the release.
King Abdullah Economic City is the first of several such developments planned by Saudi King Abdullah bin Abdul Aziz Al Saud, who visited the city this week, according to news accounts.
A Capri spokeswoman says Mr. Primo was in Saudi Arabia on Wednesday for the signing of a memorandum of understanding for the project and a ceremony with the king.
Prime CEO Michael Reschke couldn't be reached Thursday morning for comment. The firm, which isn't related to Prime Group Realty Trust, is also working with Capri on developing an outlet mall in south suburban Country Club Hills and a mixed-use retail and residential project in the Bronzeville neighborhood.
King Abdullah Economic City has been under construction since late 2005 along the Red Sea, between the cities of Mecca and Medina. The Saudi Arabian General Investment Authority is spearheading the project. The master developer is Emaar the Economic City, a publicly held Saudi-based company that's behind many of the massive projects under way in the Middle East, including the $20-billion Burj Dubai Downtown, which includes the Burj Dubai tower that's surpassing the Sears Tower as the world's tallest building.
Capri, which Mr. Primo co-founded in 1992 and which now manages about $4.8 billion in assets for pension funds and other institutional investors, has aspirations for more growth in the Middle East.
"Saudi Arabia is a critical component of our international growth strategy and will serve as the headquarters to Middle East and North Africa markets," Rehan Atiq, Capri Global Capital's co-CEO, says in the release. "The economic fundamentals of Saudi Arabia are as strong as any other world-class emerging market. We are delighted to enter the Kingdom through this very prestigious opportunity."
http://www.chicagobusiness.com/cgi-bin/printStory.pl?news_id=29804