US stocks could rise if oil extends pullback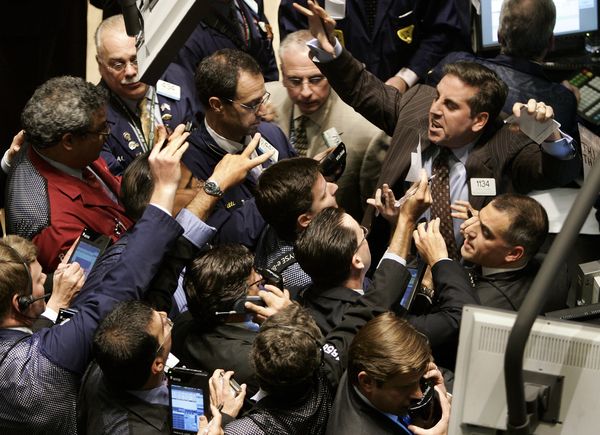 Friday's gains in the markets were driven by some reassuring news on the inflation front. (GETTY IMAGES)    
By
 
Reuters  on Sunday, June 15, 2008
US stocks could rise next week should oil prices extend their pullback and data show no further deterioration in the economy. But investment banking results will be the wild card.
The US Federal Reserve's increased discomfort with inflation will also curb investors' enthusiasm, with the May Producer Price Index set to give the latest measure.
Major Wall Street investment banks Goldman Sachs, Lehman Brothers and Morgan Stanley are expected to post poor results next week, hampered by more write-downs and a sizable loss at Lehman. The May PPI report, due for release on Tuesday, tops the data list, followed by May housing starts, May industrial production and a reading on the first quarter's current account. All of those numbers are on Tuesday's agenda.
Also crucial in setting the market's tone will be Thursday's weekly jobless claims and a survey of economic conditions in the Mid-Atlantic region by the Federal Reserve Bank of Philadelphia. "The market been oscillating… with each move synchronised by daily volatility in the crude oil futures market. We see that pattern continuing," said Fred Dickson, market strategist and director of retail research at DA Davidson in Lake Oswego, Oregon.
"The market will probably continue to remain inflation focused with PPI coming up. Our take is that investor reaction to the CPI was that it could have been worse."
US front-month crude ended the week down 2.7 per cent. For the week, though, the market's performance was mixed: The Dow Jones industrial average rose 0.8 per cent, while the Standard & Poor's 500 dipped 0.1 per cent and the Nasdaq Composite Index fell 0.8 per cent.
Friday's gains were driven by some reassuring news on the inflation front. A government report on the US Consumer Price Index showed that underlying price pressures were muted in May, easing fears of inflation and a near-term rise in interest rates. Despite relentless rises in oil and food prices recently, investors bet that statistics that point to no runaway inflation would allow the Fed to keep interest rates steady.
To spur an economy hamstrung by the housing market's slump and losses in the financial sector from the mortgage crisis, the Fed has slashed its benchmark interest rate by 3.25 percentage points since mid-September 2007 to two per cent currently. "I think we're probably still stuck in a fairly broad trading range with 1,240 to 1,250 on the S&P at the bottom and 1,500 to 1,525 on the upper end," said Craig Hester, president and chief executive of Hester Capital Management in Austin, Texas.
"The stock market is fighting the headwinds of an economy that, if it is not in a recession, is definitely reflecting decelerating momentum." The S&P 500 ended Friday's session at 1,360.03.
Fed officials due to speak next week is rather light, with policy setters likely to be gearing up for the two-day rate policy meeting set for June 24-25. Even so, investors will keep an eye out for a speech by Federal Reserve Bank of Richmond President Jeffrey Lacker on the economy tomorrow and remarks on global finance by Federal Reserve Bank of San Francisco President Janet Yellen on Wednesday.
Fed Chairman Ben Bernanke, who warned last week the central bank would strongly resist rising inflation, is scheduled to speak on challenges for health care reform tomorrow.
"It's hard to think the market is seeing fantastic growth. Instead, the market seems to be seeing stagflation, and to me that is toxic to stocks, absolutely toxic," said Brian Gendreau, investment strategist at ING Investment Management in New York.
"What really bothers me is the Federal Reserve's shift in focus away from growth to combating inflation, and this in the face of almost zero growth in the economy."
On the earnings front, investment banks will command all the attention as investors seek to determine if the financial sector has seen the worst of the credit crisis.
Lehman Brothers is scheduled to post second-quarter results on Monday. It forecast a quarterly loss of roughly $2.8 billion (Dh10.2bn) – its first-ever loss.
Rival Goldman Sachs is scheduled to post its quarterly results on Tuesday. Morgan Stanley's earnings are due on Wednesday.
Other results on tap next week include those of design software maker Adobe Systems and FedEx Corp. As an economic bellwether, FedEx will be on investors' radar for anything it says about the impact of high fuel costs on its business outlook.