Filipina on Death Row in Kuwait-Suspicious circumstances, and a cruel fate, without a fair trial.
Filipina on death row says she accepts her fate, entrusts her life into God"s hands May Vecina narrates her story exclusively to Al Watan Daily Ricky Laxa Al Watan staff
 Exclusive to Al Watan Daily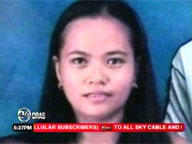 KUWAIT: May Vecina, a Filipina domestic helper who was sentenced to death for killing a sevenـyearـold Kuwaiti boy who was under her care, has written a letter addressed to Al Watan Daily and GMA Pinoy TV Philippines narrating her story and explaining what she remembers of that fateful day.
 The following are extracts from the letter: My sincerest greetings to your publication and my gratitude for having been given the chance to convey my situation here in Kuwait. My name is May Membrere Vecina, I am twentyـnine years old, and I am married with two children. I was born in Kilada, Matalan in Cotabato. I was the youngest among seven brothers and sisters and we grew up as orphans. I was able to come to Kuwait through a special program launched by the Philippine President for Mindanao region. I arrived in Kuwait on March 30, 2006, and began to work as a domestic helper.
 My dreams were simple: to take my family out of poverty and give my children a good education. I came to Kuwait even though my children were young and bore the pain of being separated from them. I never knew that such simple dreams would turn into tragedy. My employer picked me up from agency"s office on April 3, 2006. I had no idea how hard and tough it would be to work as a domestic helper. I asked representatives from my local agency to help me get out of the house and be returned to the agency. Eight replacements were provided by the agency yet my employer always requested my return to their house. Both my employers were Arabs and had seven children. I took care of the needs of the children and was alone to clean a huge house.
 It was on January 7, 2008, when I woke up in the hospital and was unconscious for two days. I was told that I killed my employer"s sevenـyearـold son Salim. I could not move my whole body. My legs were broken, my back was damaged and had stitches on my head, arms and throat. I was confined to the hospital for a month and could not walk for six months. It was my faith in God and the determination to see my family again that kept me going. Security was very tough and no other nationals were allowed to come near me, even embassy officials were not allowed to communicate with me.
 From the ICU, I was transferred to AlـRazi Hospital and no Filipino nationals were allowed to come close to me. There was even an incident of someone tried to break through the door and kill me. More security was added to ensure my safety and I praise and thank the Kuwait government for doing this. After some time I was transferred to the Central Prison and it was only at this time that Philippine Embassy personnel were allowed to visit me.
 The Philippine Embassy staff headed by Ricardo Endaya, Ambassador of the Philippines to Kuwait, exhausted all the available resources to provide spiritual, moral and legal support for me to be given the chance to go through the legal process of Kuwait"s justice system.
I thank Ambassador Endaya, Vice Consul Rea Oreta, Attorney Tomara Ayo, Sharia Lawyer, Amy Crisostomo, Welfare Officer and all the staff of the embassy and OWWA Center in Kuwait. My special thanks also go to Gloria Macapagal Arroyo, Philippine President and Vice President Noli De Castro along with Department of Foreign Affairs, Overseas Workers Welfare Association, Department of Labor and Employment of the Philippines. To all those who unceasingly pray for me is my endless gratitude for your kindness and sympathy. I am one of five Filipina women who are being charged with murder; they are Marife Cruzado, Marilou Ranario, Jakatiya Pawa and Minerva Tayag. I was informed that my case will be very difficult to resolve as I have been convicted of killing a young innocent boy. I know that the Philippine government is doing everything within its means to save me from death. I entrust my life into the hands of God and His mercy. During my last court proceeding, I was sentenced to death by the judge. I felt helpless, afraid and greatly saddened; the mere fact that I will be leaving my family and children in poverty brings me sleepless nights. I pray that God gives me enough strength and courage to face my fate. I know that God will not give me trials if I cannot go through them, yet I want to go home alive and I know my children are praying for me to return to them. The only thing I wish for is that people with generous hearts provide for my family who are suffering greatly in poverty. I pray that they will be given the chance to survive these trials through your kind help. I hope that through your publications I will be able to ask for help for my family in the Philippines. I will never be able to provide for them anymore and will not see my children grow up. We are poor and I wish to see my children grow up and secure their education and for my husband to provide for their daily needs. As I accept my fate, I beg for your help. Kindly include me in your prayers and to all Filipinos, take care of yourselves always and God bless us all. Love and Care, May Membrere Vecina Last updated on Tuesday 15/7/2008 http://alwatan.com.kw/Default.aspx?MgDid=651296&pageId=473