Muslim men divorcing their wives by text message! Techno Shariah!
Shariah Laws allowing men to divorce their wives via text messages. Technology is now being used to perpetuate 7th century Shariah practices that are abusive to women, and to the sensibility of modern day thinking. We need to bring this to the attention of those who support Shariah laws, and to stop this form of abuse.
comments by Allyson Rowen Taylor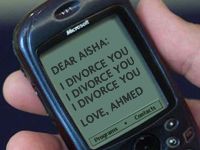 www.missionislam.com/family/talaqdivorce.jpg
SMS divorces spur call for family law
  By REBECCA TORR
BAHRAIN could soon follow a growing regional trend of Muslim men divorcing their wives by text message, if a family law is not implemented soon, women's rights groups warned yesterday.
They say that it is wrong that men could legally divorce their wives in such a spontaneous and inhumane way.
A family law should be introduced to ensure that husbands divorce their wives in an ethical manner and that they provide for them and their children, said Bahrain Women's Union member Fatima Al Rabea.
"If we have a family law, they will think about this. But now there is no protection," she said.
The union will submit its final draft for a family law by the end of the month.
The draft of the law, which is also called the Personal Status Law, aims to govern family matters and improve the situation of Bahrain's women.
It has been put together by the union, with submissions from various women's societies.
A Sharia Court in Malaysia recently ruled that a Muslim man legally divorced his wife by sending her a short messaging service (SMS) saying: "If you don't leave your parent's house, you will be divorced".
In another case, an Egyptian woman is seeking clarification from a court on whether her husband's declaration of divorce via text message was legally valid.
There were also several accounts of husbands who had declared divorce to their wives by text message only to take them back after regretting their decision in Saudi Arabia.
Ms Al Rabea said she was appalled that husbands were being allowed to divorce their wives just by sending them a text message.
She said it was wrong that men could legally divorce their wives in such a spontaneous and an inhumane way.
This was in stark contrast to the tradition for marriage where the bride and groom to be and their families would usually take several months discussing and meeting before making the commitment, added Ms Al Rabea.
"I don't agree with this, we are human beings and we must talk face to face," she told the GDN.
"If I can't stay, I should talk to my partner and we should take a decision together, not by sending a message. It's not correct and it's not fair.
"They need to speak to their wives and discuss the problems. They must discuss the reasons. These practices are very hard for the woman and the family."
Ms Al Rabea said according to Islam, if a husband wanted to divorce his wife, he must say she is divorced three times and it should be in front of a witness. He should then confirm it again in court.
She said without the divorce being confirmed in person anyone could get the phone of a husband and send a message to his wife that she is divorced.
"We can't do this, it's very sensitive and private," she said,
"If no one stops this, it will continue and break all the family.
MP Adel Al Mo'awda said the procedure for getting married and divorce was very simple in Sharia.
He said some judges would accept a text message as a legitimate way of divorcing their wives.
"The judge will ask if he meant what he said in the text message and if he did they will count it as a divorce," said Mr Al Mo'awda.
"But I think some Sharia judges will say you can't write the divorce unless you can't speak, but others say you can write it, so it depends on the judge."
Mr Al Mo'awda said to divorce his wife, a husband only had to say she was divorced, then there was a period of three months when they could get back together. During this time they should reside in the same house.
This could happen a second and third time, but if they did not get back together after the third time, then they were legally divorced, he added.
Mr Al Mo'awda said unfortunately when it came to divorce, many husbands were not following Sharia law and if they did, then 70 per cent of those seeking a divorce would remain married.
He said husbands often divorced their wives out of anger, but if they followed Sharia law properly, many of them wouldn't even be eligible for divorce.
For example, he said, a husband could not divorce his wife while she was having her menstrual period. Likewise, a husband who had sex with his wife after she finished her last menstrual period should wait for her to get and finish her next menstrual period before he could divorce her.
"But unfortunately, people don't follow these things, so they must get the consequences of their actions," he said.
Mr Al Mo'awda called on women's groups to educate society about the right way of divorce according to Sharia law. "Most of divorces take place when the husband is angry, but once he calms down, they will hug and make up." [email protected]
http://tinyurl.com/6rdjn2