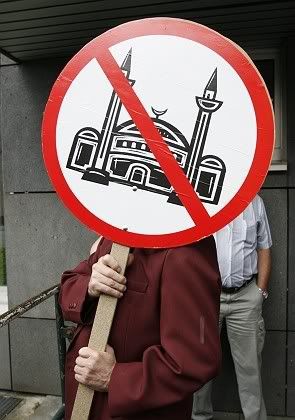 i32.photobucket.com/…/NoMosqueNoMinaret.jpg
Many Germans think that mosques which are bigger than churches are a provocation.  This according to a debate which has started up again, after authorities gave their permission to the building of one of Europe's largest mosques in the city of Cologne.
While Cologne's conservative mayor, Fritz Schramma, strongly defends the buildings, his own party members have decided to oppose the projects, because they regard the building as a show of force from the side of the Muslims.
The mosque, which will be in the Ehrenfeld neighborhood, is so large it will be the most dominating building in the area.
Some of the sharpest protests came from immigrants who have turned their back on Islam.
"I can understand it if the citizens in Ehrenfeld see the new mosque as a distasteful show of power from the Muslim side," says for example Seyran Ates, who was born in Turkey.  In recent years she has thought for the rights of Muslim women in divorces and is also a member of the Islam-critical organization Ex-Muslims Central Council in Germany.
A similar debate already took place a year ago.  The then minister-president of Bavaria, conservative Edmund Stoiber, then required that cathedrals should continue to be taller than mosques.  His argument was that Christian Germans still make up a majority of the population and the country's leading culture is pervaded by Christianity.
This attitude is now supported also by representatives of another religious minority in Germany, the Jews.  The vice president of the Jewish Central Council in Germany, Salomon Korn, calls on Muslims to take into consideration the feeling of the population and to renounced buildings which cause the Germans irritations.
.
Source: Kristeligt Dagblad (Danish)
continue reading at………..
 Islam in Europe